"Why are there no real beautiful Yoga Mats and Yoga Gear out there?"
That used to be my most pressing question. But let me introduce a Yoga-brand with a different style. My name is Johan and I am co-founder of YUMAN. Yuman, pronounced like Human, and spelled with a Y.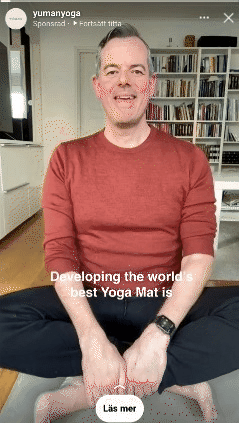 A Yoga-brand with a different feel
YUMAN started as a brand to express a feeling of harmony, high quality, beautiful visuals, sharing a feeling of inclusiveness and our deep interest in self-actualization. Check us out!
When we started YUMAN, we did it with a clear desire to make Yoga more accessible to more people. According to my taste, there were far too many products in Yoga that did not appeal to me in terms of design also NOT knowing WHAT they are made of and HOW they're produced.
So, we started a journey to find, source and manufacture great products with a focus on the physical aspects of Yoga. We found a great supplier of wonderful Yoga wear for women, and are still looking for the same for men… And we decided to develop the best, most beautiful and environmentally friendly Yoga Mat that we could imagine and practically bring to life, on our own. You can see the result here!
The idea was to create a functional Yoga mat, with an outstanding grip and wonderful to use. At the same time, it should be beautiful to look at, so that you easily could display it on your living room floor. The mat is made of pure natural rubber with a top of vegan leather that gives a fantastic grip, and at the same time is as free of all from chemicals.
Means to end is just as important as the result!
I have worked for many years with the clothing industry, and I know how difficult it is for almost all companies to switch to an environmentally friendly and humane production. So, we set out to make it right from the start.
We methodically scouted and carefully selected the market for manufactures, that we felt we could work with over a long period of time, made sure their workforce got the right conditions for a healthy work environment and that we were able to secure that the right materials went into the products.
It is about building long-term relationships with partners who also constantly want to develop their methods of sustainable production.
The same goes for our partner products and brands that we sell on our platform. Everything needs to proven quality and produced in a way that we feel comfortable with.
Let's make something beautiful!
In terms of design, we have took our inspiration from our Scandinavian home environment. (You can get a feel for our design inspiration on Instagram)
As a Swedish based company, we wanted the products designed in natural and harmonious colors that recalls our heritage of deep forests, beautiful and clean lakes, vast mountains, and our coastline with its unique archipelago.
We wanted to unite the feeling of our Nordic spiritual heritage with the ancient history of yoga, which both goes back thousands of years. We believe that we all stem from the same source and energies that flow through us.
Hopefully we succeeded in embodying it into our products? You can take a look here!
Conclusion
Yuman Yoga is a NEW Yoga Brand with a modern and different feel. We didn't find the design and quality we wanted and decided to make it ourselves.
We started out with producing and selling high quality Yoga Mats. Produced with considering all the factors of great and sustainable materials, and in factories that we know we can trust.
Our design is inspired by our Scandinavian home. Imbedding the feeling of our Northern heritage in combination with the ancient history of yoga.
Contact us
What do you lack regarding products for Yoga and meditation? Just REPLY to THIS e-mail or klick the button below.
Interested in the selling our products? Don't hesitate to contact us for more information regarding partnerships.
Yours sincerely,
Johan Kittel, co-founder